Latest by Omnia Rizk
---
Qadir 2020 maneuvers continue for fourth day
---
Ghosn revealed on Tuesday that he fled to Lebanon, where he spent his childhood, to escape what he described as a "rigged" judicial of financial violations.
---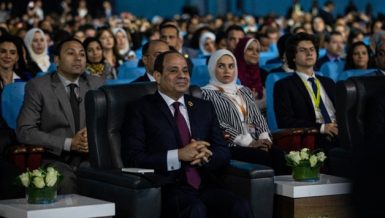 During the session titled "Artificial Intelligence and Human Beings: Who Controls?" Al-Sisi said addressing the youth, "you have to catch up with modern technology," as it will be difficult to keep up with technological advances.
---
On a different note, the Executive Director of the UN World Food Program (WFP), David Paisley, said that every five seconds one child dies from hunger, explaining that humanitarian conflicts, climate change, and terrorism have caused very high rates of hunger around the world.
---
Trump impeachment.. What happens now?
---
Egypt's Observatory of Monitoring Takfiri Fatwas, Dar Al-Iftaa condemned the terrorist attack
---
Germany emerges as a possible venue for peace conference in October
---
---
Johnson explained that his decision to shut down the parliament aimed to allow the Queen to pass a new legislative outline for the government on 14 October.
---
Firm's collapse to shake Egyptian market until another company absorbs number of Thomas Cook's travellers: El Damery
---
End of Section