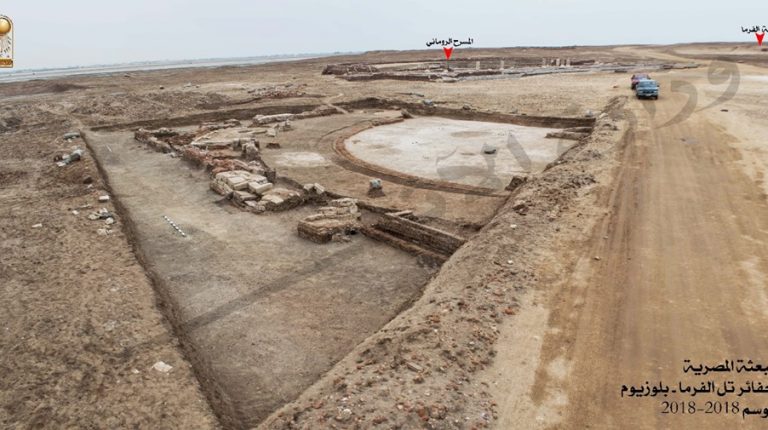 A huge Roman Empire building that is believed to be the Roman Empire main senate was unearthed on Wednesday at the Pelusium archaeological site near North Sinai. The site was found by an Egyptian mission in cooperation of the Institute of Archeology and Ethnology of the Polish Academy of Sciences.
The 2,500-sqm building is made of bricks and limestones. The huge rectangle-shaped building is divided into several open amphitheatres.
The building contains three main amphitheatres covered with marble. Remains of the main caveat were found at the third unearthed amphitheatre, which was made of red brick in a rectangle shape.
The discovery extended to detect streets of the city surrounding the senate.
Moustafa Waziri, Secretary-General of Supreme Council of Antiquities, stated in a press release that the building was discovered amid the geophysical exploration process that has been ongoing since 2005, as part of the project documenting the urban planning of the Tel Farma archaeological site of which Pelusium is a part of. 
Pelusium was an important city, which led it to be Roman provincial capital and Metropolitan archbishopric.
Waziri explained that the place of the building and its architecture detect that it was the city's main Roman Senate, or the place in which the nation's representatives used to gather to discuss the matters and the main decisions of the empire.
The building is located in the city's main street, which was discovered earlier at the current excavation season.