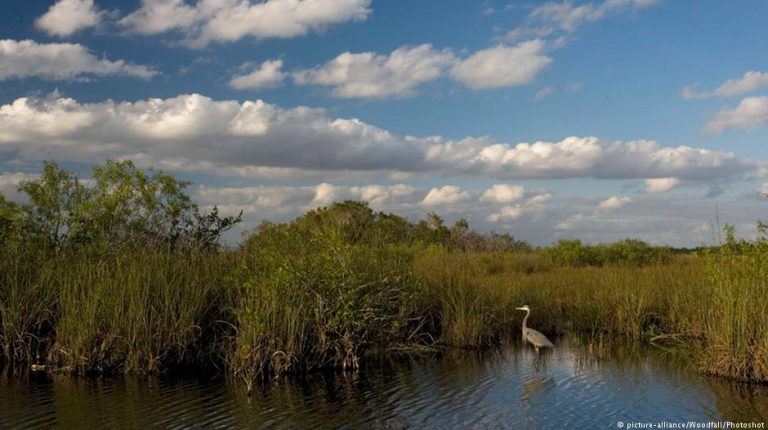 The Everglades acted as a natural shock absorber that softened Hurricane Irma's impact. But being the on frontline of the most powerful Atlantic storm on record took its toll, threatening a unique wetland wilderness.The Everglades is a wet place — hosting a profusion of aquatic plants and animals. But you can have too much of a good thing.
When Hurricane Irma hit Florida in September, a record-breaking wet season meant water had already been accumulating since June, causing the worst flooding in 70 years. Now, marshes and tree islands are submerged in waters too deep for birds to nest or wade.
The Everglades comprises a rich variety of habitats, from a shallow freshwater river filled with aquatic plants and dotted with islands of trees, to a saltwater apron of mangroves, sea grasses and coral reefs. Combined, they naturally absorb huge changes in precipitation
Celeste de Palma, Everglades policy associate for environmental organization Audubon Florida says 1 acre (4,050 square meters) of wetlands is able to hold up to 1.5 million gallons (5,700 cubic meters) of floodwater. For every 2.7 miles (7 square kilometers) of wetland a hurricane crosses, the storm surge is reduced by 1 foot (30 centimeters).
"When you hear something like that you should think the wetlands are our allies, our shock absorbers," she told DW.
Without this natural buffer, Hurricane Irma would have caused even greater damage. But being the on frontline of the most powerful Atlantic storm on record took its toll.
Depleted defenses
The 60-by-100 mile northern catchment of the Everglades begins around Orlando, draining to the Kissimmee River, and the 730-square-mile Lake Okeechobee. From there, waters would naturally have fed the southern Everglades uninterrupted. But development has led to complex problems with water management.
"When you look at the Everglades ecosystem, it would hug the entire peninsula so it really acted as a shield, the first interaction with any incoming storm," de Palma says. "When you look at the communities we have built, what we've done is essentially pluck away at these wetlands that used to be the shock absorbers."
Experts say the wetlands are in a severely depleted condition, with only 50 percent of the original ecosystem in tact.
Touring the Everglades by airboat, Audubon Florida science coordinator Paul Gray explains that Lake Okeechobee, the largest in Florida, has risen to 17 feet deep.
Dam under pressure
"The problem we are having is the lake never needs to go above 16 feet, or this stuff is going to get stressed," Gray says. "The whole bay should be green and full of life and there is hardly anything left, because the hurricane made the lake so deep and so dirty that all of this stuff is dying."
Since the 1960s, the lake is almost completely enclosed by the Herbert Hoover Dike, which protects the surrounding land from flooding. That means it now largely relies on estuaries to drain water to the sea. But with the water volume so swollen, the estuaries aren't doing the job quickly enough – and dam is coming under pressure.
During Hurricane Irma, The Army Corps of Engineers began inspecting it daily for leaks. A breech would put surrounding communities at risk, many of which were in Irma's path, and so evacuated.
"We need to build more water management features so that when something happens the managers have more options," Gray says.
Birdlife vanishes
Steering the airboat, Gray sometimes seems lost for words, as he surveys the expanses of murky water that once seethed with a green tangle of lotus, hydrilla and eel grass.
"There are not many birds here," he says, "not sure where they went."
In what was previously a spot in the shallows where wading birds fished, he dips a life-sized model of a blue heron into the water. It's completely submerged before its feet hit the bottom.
"The birds come through here and they've got to get fat before they go to the Caribbean and South America," Gray says. "One third of the American bird species go to the tropics for winter. We are the last gas station before they take off across the ocean."
The flooding means most of the Everglades National Park has been closed to tourists since September — just one Irma's economic impacts.
But without Everglades, Irma would have wrought far greater destruction. Restoring and protecting them isn't essential just to their unique biodiversity, but also to the human communities they shield.