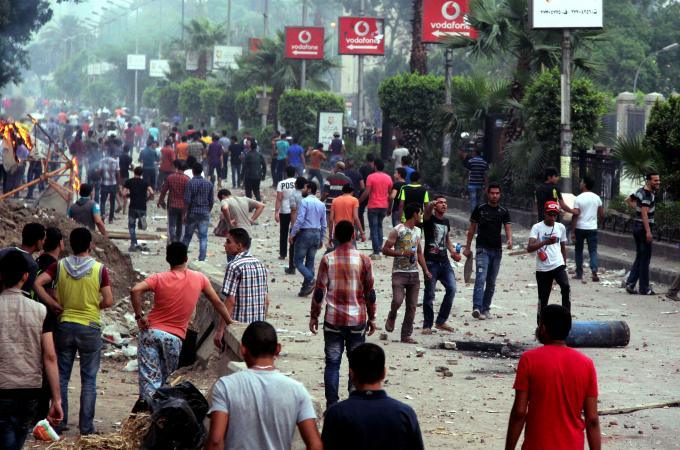 "On my way to North Giza court to be investigated by a judge over drafting an anti-torture bill, [I am] accused of founding an illegitimate group among other [charges]," tweeted human rights lawyer Negad El-Borai on Sunday.
This was the sixth time El-Borai, who heads an NGO called United Group law firm, has been called in for questioning for the same reasons. It is the fifth time he actually went in for interrogation, after his last summoning was postponed.
El-Borai had said that he drafted an anti-torture bill with the aid of two judges. "Under investigations for defending people's rights," El-Borai tweeted shortly before his Sunday session. Four hours later he announced the end of his interrogation.
Like a number of civil society workers in Egypt nowadays, El-Borai is facing charges related to "illegally" receiving foreign funds. Moreover, his work in the human rights fields puts him under the government's microscope.
Last February, authorities attempted the closure of El Nadeem Centre for the Rehabilitation of Victims of Violence on grounds of failing to acquire proper licences. The centre had been denouncing torture practices inside detention facilities, most of which were allegedly committed by police.
While authorities have not made public statements regarding the prosecution of El-Borai, the local Al-Youm Al-Sabaa newspaper claimed to have exclusive access to the investigations, of which it published a copy on Saturday.
The report named Karim Al-Maqrahy, an officer at the National Security apparatus of the Interior Ministry, who allegedly stated in the investigations that he obtained "information that El-Borai is a human rights activist who receives funds from foreign entities with the aim of distorting the image" of Egyptian state institutions.
The report further revealed those American organisations to be the National Centre for State Courts (NCSC) and the Carter Centre, with which El-Borai is supposedly involved in "recruiting youth to work in politics under the curtain of democracy, according to a conspiracy based on non-violence science".
The officer also said, according to the newspaper, that "false information is published on the situation of human rights in Egypt with the purpose of inciting public opinion". Interestingly, the officer's reported information was based on El-Borai's accounts on social media networks such as Facebook, in addition to his press and TV statements, as well as opinion pieces he wrote for Al-Shorouk newspaper.
The investigating judge questioned El-Borai on Sunday about the officer's account published in Al-Youm Al-Sabaa, according to a statement from the United Group.
The rights lawyer said during the session: "violations of human rights are what will lead to instability therefore firmly standing against torture, which was one of the reasons for the 25 January 2011 revolution, is a must."
El-Borai added that he aims to support stability and defend the law and the Constitution "which is a task for all Egyptians and at the front of them are lawyers".
Reports of torture practices inside detention facilities were issued by several local NGOs. Several cases have been documented.  Last December, two National Security officers were sentenced to five years in prison for torturing lawyer Kareem Hamdy to death, as the case sparked wide controversy.