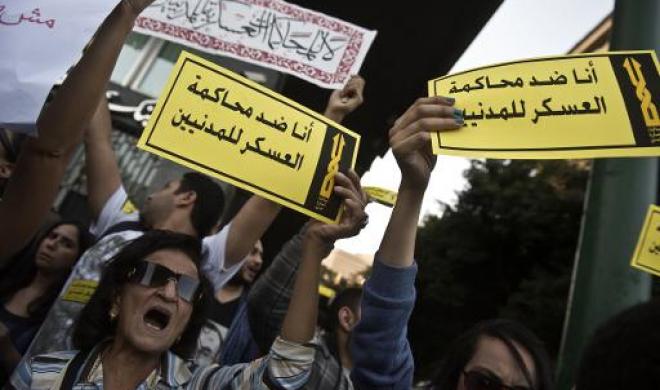 Six defendants from the Kafr Al-Shiekh stadiumcase are to face execution on "terrorism" charges in an "unfair" trial, the Egyptian Initiative for Personal Rights (EIPR) said Tuesday.
The organisation condemned the verdicts, describing them as legalised "oppression", and called for the authorities to vacate the sentence and order a retrial.
Earlier this month, the Alexandria Military Court approved the death sentences for seven defendants in the case, which began in April 2015 when a bomb blast took the lives of three military academy students near the stadium.
Of the seven, three were sentenced in absentia. Five defendants were sentenced to life in prison, two to 15 years in prison, and two others to three years in prison. The 16 defendants were charged with murder, committing acts of terror, and for belonging to the now-banned Muslim Brotherhood.
The organisation also pointed out that military investigations cited the inability of security cameras to detect the perpetrators.
Additionally, EIPR said five of the defendants were tortured by police whilst being investigated.
Responding to this, the Ministry of Interior said Wednesday that the alleged claims of "torture and disappearance" were referred to the prosecution to be looked into, and that "the ministry will abide by any decision taken by the prosecution".
The case resembles that of Arab Sharkas which involved six defendants who were executed as several human rights organisations, such as Human Rights Watch and the Egyptian Coordination for Rights and Freesoms, asserted that they were in detention during the time of the attack they were charged for.
The number of cases referred to military prosecution has increased since the ouster of former president Mohamed Morsi in July 2013. "Military tribunals are characterised by quick investigations which affects the entire process of investigation, and strips defendants from a sufficient amount of time to present their case," EIPR added.
Egypt's military trials are held in military areas, which are restricted to civilians, and are usually led by high-ranking military officers.