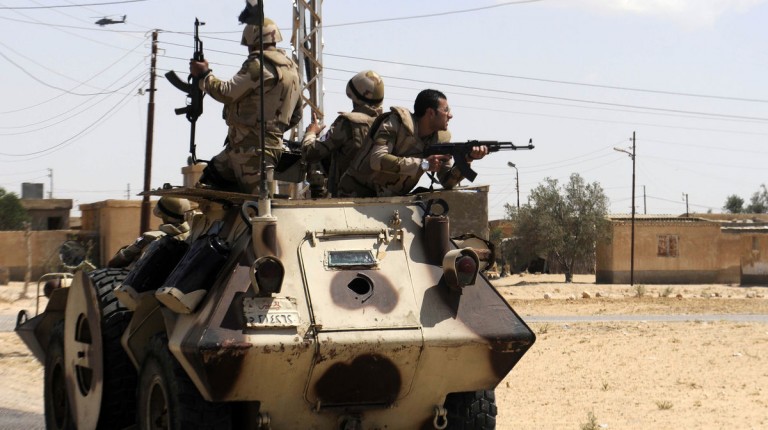 On the 15th day of a campaign by the armed forces to counter the ongoing insurgency in the restive North Sinai, the Defence Ministry announced Sunday that five more militants were killed in operation "Retribution for the martyr".
The armed forces have been posting daily statements on the results of the operation. The military spokesperson said on Monday that operations are ongoing "to fight terrorism on all levels". According the military, the raids are taking place in Al-Arish, Sheikh Zuweid, Rafah, and some parts of central Sinai.
Troops from the second and third field army, with assistance from Special Forces and anti-terrorism units from the civilian police, attacked several terrorist hideouts. The attacks took place with aerial support. Ten vehicles and three motorcycles were destroyed, while other "terrorist" hideouts were burned.
Meanwhile, a battle of statements is taking place between radical militants in Sinai and the armed forces on social media. Since the passing of the anti-terrorism law last month, media outlets in Egypt are obliged to solely follow information provided by government bodies regarding terrorist attacks.
Militant groups in Egypt, primarily "State of Sinai", have capitalised on the absence of media coverage and hard information about the army's fight to contain the insurgency in the peninsula, by releasing videos of attacks that portray themselves as succeeding without difficulty.
As part of the counter-insurgency efforts of the state, President Abdel Fattah Al-Sisi issued a decree last month that amended a number of provisions of a law regarding the full development of the Sinai Peninsula. Ten articles of the law were replaced with new ones, with the purpose of avoiding the involvement of state institutions in any legal disputes with investors, who made legal contracts prior to the adoption of the law in early 2012.
The law stipulates that ownership of land and real estate in the region must be held by persons carrying only Egyptian citizenship, with Egyptian parents. Juridical persons who obtained capital entirely from Egyptian citizens are also entitled to own land and real estate in the region.
A surge in militancy in North Sinai has been witnessed since the ouster of former president Mohamed Morsi in July 2013. "State of Sinai", formally known as Ansar Beit Al-Maqdis, claimed responsibility for almost all the attacks taking place in the area.