Flat6Labs, a firm specialising in start-ups has made the highest number of start-ups deals in Egypt, investing in 46 ventures out of 123 completed entrepreneurship deals, a recent Egypreneur study showed.
Although start-ups have good growth potential, investing in start-ups is risky for investors as entrepreneurs cannot guarantee that the project will succeed, the study said. It also emphasised that entrepreneurs should show investors their potential and skills to convince.
Egypreneur (Egypt Entrepeneur) is a network, founded by AbdelRahman Magdy in 2008, to empower of Egyptian entrepreneurs, providing them with resources, services and support models. It created the study to provide basic understanding of the stages that entrepreneurs go through from idea until building a successful company, focusing on the funding process.
According to the study, only 5-10% of start-ups can keep their company alive after the first three years.
Discussing the process of start-up funding, the report said that there is a complete industry that focuses on supporting emerging ventures through buying parts of them in exchange of cash, adding that the funding process happens at different stages until the business model can be a part of the corporate finance world.
Giving a detailed guide for entrepreneurs to convince investors, the study highlighted entrepreneurs should sell themselves as a brand, also informing investors the potential value and significance of their project.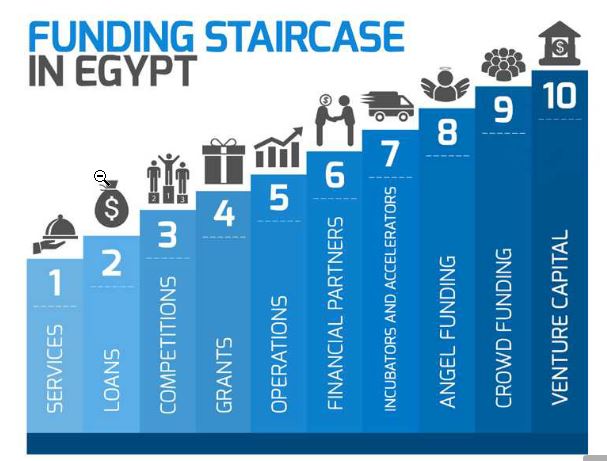 Entrepreneurs should also set a goal for the amount of money needed and which entities are the best to provide fund, the study said. It stressed that after this stage, entrepreneurs should communicate with the entities and provide a presentation on their business.
Flat6Labs is a regional start-up accelerator programme, based in Cairo, Jeddah and Abu Dhabi, investing in starting entrepreneurs. The programme provides them with fund, strategic mentorship, workspace and entrepreneurship-focused business training.  It was founded in 2011 by venture capital firm Sawari Ventures and in collaboration with the American University in Cairo (AUC).
Flat6Labs CEO Ramez Mohamed told Daily News Egypt in July that money is one of the most important aspects in starting a new venture. He added, however, that they also need more than money – they need connections, mentorship and access to resources and training.
Egypt's youth are facing major challenges as the unemployment rate registered 13.3% during the second quarter (Q2) of 2014. This figure compares to 13.4% during the Q1, the Central Agency of Public Mobilization and Statistics (CAPMAS) stated in August. Unemployment recorded 9% during the same quarter in 2010, the statistics agency highlighted.
CAPMAS also reported in August that approximately 27.8% of Egyptian youth live in poverty, while 24.1% live near the poverty line. The figure is a minimal increase compared to last year, where poverty and near-poverty among youth was 51.3%.