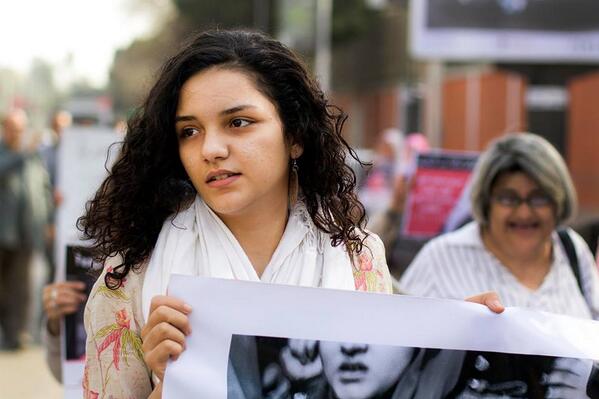 Detained activist Sanaa Seif announced Thursday 28 August that she has begun an open-ended hunger-strike, her sister Mona Seif said Friday.
Her family handed the notification to prosecution on Thursday.
Seif decided to begin the hunger strike after seeing her father in a coma during the authorized visit.
"It was then that she realised more and more the extent of oppression that thousands of detainees and families are exposed to in silence and away from the attention of most people," her sister Mona Seif wrote.
A member of the No Military Trials for Civilians group, Seif was arrested in late June at Itihadiya for demonstrating for her brother's freedom, and against the Protest Law. She now remains in custody awaiting trial.
Her brother, Alaa Abdel Fattah, was sentenced to 15 years prison in absentia, also on charges stemming from violating the Protest Law.
He also announced an open-ended hunger strike last week after seeing his father's condition during an authorised visit.
Their father, accomplished human rights defender and lawyer Ahmed Seif, passed away Wednesday afternoon while she and her brother were in prison.
There are approximately 41,000 detainees in Egypt at the moment, according to the database WikiThawra.
Tens of Egyptian prisoners have been using hunger-strikes as a form of protest against unjust detentions and maltreatment in prisons.