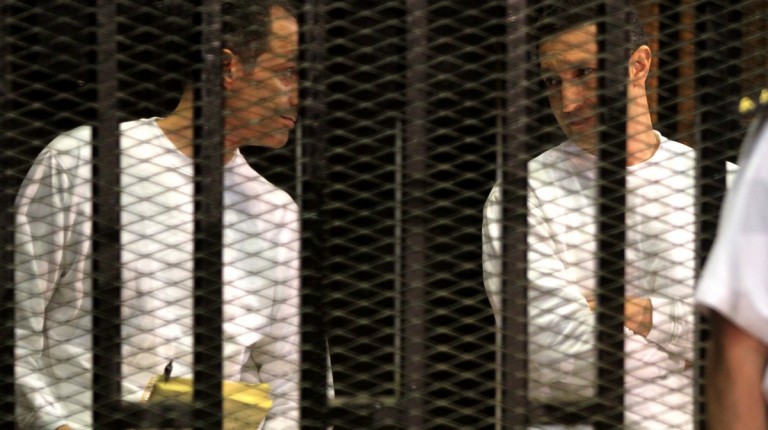 By: Lamia Nabil
The Cairo Criminal Court (CCC) overturned on Wednesday a decision to deny 23 people, including former President Hosni Mubarak's two sons Alaa and Gamal, permission to leave the country, and to freeze their assets, confirmed Magdy Abdel Mabood.
Abdel Mabood is one of the lawyers of the accused, Hussein El-Sherbiny.
The 23 were accused of profiting from the sale of the Al-Watany Bank (AWB) through stock market manipulation.
Abdel Mabood also said that the decision had no legal basis since the case was already put before the CCC on 10 March, and that it had subsequently rejected it. "It therefore cannot be put before another court," he said.
The case was previously dismissed because there was no proof against the defendants, he said, and the official papers presented to the court did not provide any basis for the accusation of insider trading.
"The court was very fair and gave a clear decision," he continued. "The prosecution claimed that no decision was made regarding the accused. The prosecution then approached the CCC during the hearing on 10 March to prevent the defendants from leaving the country and to freeze their assets. However, the CCC rejected this request, which compelled the prosecution to seek to issue the decision via another prosecution district, which, having been made aware of the previous CCC decision, rejected the request."
The prosecutors relied on the fact that the earlier decision constituted "a draft decision"; however, Abdel Mabood said, "the law does not recognise such draft decisions".
He explained that the defence had made this point during their case, and it was this which resulted in Wednesday's decision ruling in their favour.
"This decision will help to restore the confidence of foreign investors in the Egyptian judiciary," he concluded.